I hate laundry. 
Yes, the maker of laundry soap loathes laundry. It's my mom's fault, really. She never let me do laundry as a kid (BWAHHAHAHA, that sounds so….. wrong). I would try to do laundry and would overstuff the machine or just throw my dad's black dress socks in with the whites…. and then probably over soap the clothes. I am sure after one laundry disaster I was banned from laundry. Can't say I blame my mom that much. 
So after I got married my laundry routine would consist of me waiting until the pile was really ginormous and then do laundry all day on a weekend. Then the piles would sit until someone put them away. Which means sometimes we just lived out of the piles. Anyone else out there like this?
Once we started having kids I had the luxury of having my mom come over once a week while we were at work and watch my kids. My never-idle-mom would fold all the laundry piles left over from the still present laundry routine of doing it all on the weekend, and put the kids clothes away and then our pile on our bed. Which meant my husband would move the pile when it was time to go to bed. So, at least our house was tidy, but our clothes were never put away.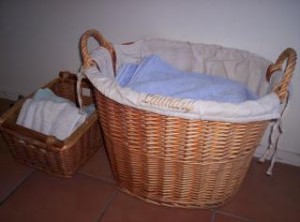 After decided to cloth diaper our second, and then subsequently, our third I needed to find a laundry routine to start so I wasn't so overwhelmed with laundry. I was good about the diapers- usually every third day I did a load of diapers and then a load of clothes. At this point I didn't mind the laundering. I hated  folding and putting away. 
After baby number three I finally figured out a laundry routine that would make folding and putting away easier. Since there were five of us AND cloth diapers I started separating out clothes a little differently. Originally I had one big laundry basket. Which would get filled every day or every day-and-a-half. Not working.
My laundry routine solution was to get a laundry basket for each child. When one a basket has enough for a load, I throw it in. This way when it is dried or hung up wet it, it all goes to one place. It FEELS like it is so much easier and quicker. Whether it is or not, I don't care. It SEEMS easier. Since hubs and I share the same laundry basket, I do whites (obviously) separate, pants and socks and underwear, towels, tops all in different loads. 
Maybe everyone does their laundry routine this way and I am just late to the common sense party. Maybe it just works for me, because it's me. 
What is the laundry routine in your house? 
Comments
comments