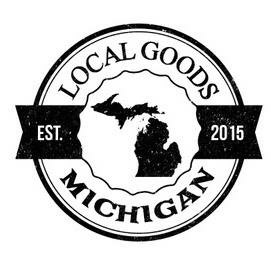 Today's post is about a great one-stop shop that features only handmade items from the great state of Michigan: Local Goods Michigan.
There are few people outside of your family that have known you most of your life.  My friend Cory Thompson is one of those people. I have known her since the third grade when we had Ms. McGill 28 years ago (<—-what!!??!). Ever since I have known her we have been in constant competition with each other whether it was seeing who could finish writing their spelling words first (me), to who scored higher on tests (Cory), or competing for first chair clarinet (mostly Cory). She has always been a "maker"… In fact I think it's in her DNA. I remember her mom always working on a quilt in her quilt room in their basement or in their living room. Good memories!
Like many friendships, our paths went separate ways at college but recrossed at motherhood. She has two gorgeous children and a handsome husband.
Cory and I have some hilarious memories (and many video tapes to prove it) but my favorite memory is driving in her dad's truck while she was learning how to drive. Listening to her dad teach her how to turn while trying not to raise his voice could easily be an SNL skit. It still makes me laugh thinking about it.
Cory has been selling her fiber creations on Etsy for over 5 years at Cory's Afgans and more. She is incredibly talented. She can make anything. But this one I just have to purchase:
Early this year Cory had a vision of providing Michigan-made goods and services all in one place. She really believes we can be more financially sound if we utilize our own capable community members and support each other. I asked her why?
Because Michiganders can do AMAZING things. Because it's good for us to eat food grown in our own community. Because it's better for our environment and ecosystem to be as self-sustaining as possible. Because everything we need is right here. Because if we believe in each other, we can do ANYTHING!
Amen to that! you can find many eclectic and unique Michigan handmade products at www.localgoodsmichigan.com. Everything from mustard to earrings, and books to beard oil- it's a growing list and Cory is looking for more Michigan handmade products! If you have products you'd like to see on her website or have a question about any product you see you can contact Cory at localgoodsmichigan@gmail.com or on Facebook.
Comments
comments