Serum your Skin
The hardest part about "getting older" is the stuff happening around my eyes…. let's call them "smiling lines". I look at recent pictures of myself and think, yeesh, I don't feel as old as I think I look.  So I decided: It's time to invest in your face. MamaSuds Skin Serum is used for aging skin, wrinkles, sunburn, dryness and scars. 
Read Label Ingredients
Skin Repair Serum
Infuse your skin with plant based oils to nourish and heal your face and skin, not chemical laden products. MamaSuds Skin Serum is made of: 

Rosehip Seed Oil has a non-greasy, oil-free feel, and is used to moisture skin, face and neck; helps prevent premature aging, soothes, heals and moisturizes mature skin, and prevents the formation of scar tissue.
 
Carrot Seed Essential Oil is an antioxidant and can reduce the appearance of damage done to your tissues; it can't turn back time but it can help you look younger and more radiant. 

Frankincense Essential Oil is great for skin care and nearly everything related to skin; burns, rashes, cuts, scrapes, and oozing sores. It's also fabulous for mature, prematurely aging, and environmentally challenged skin.

This blend of oils is in a 10 mL glass bottle with a roller ball for convenience and to help reduce waste. This is a great method of application if you have children. It's convenient and won't spill or drip all over the place. Skin Repair Serum

One thing I will say, it does not smell great. Frankincense and Carrot Seed oil have a very earthy smell to it. Everyone's scent profile is very different but I have yet to hear anyone say that they "like" the smell of it. I typically apply my Skin Repair Serum at night and so the only one that really complains is my husband. 🙂
Apply topically on areas of concern on a daily basis.  Use directly after skin cleansing but before moisturizing. Best used with MamaSuds Anti-Aging Cream.
Check it out at our online store HERE. Skin Repair Serum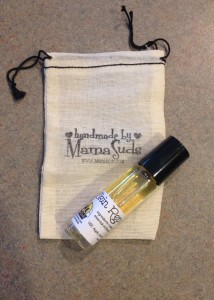 Comments
comments