As we headed home from a long weekend Up North to celebrate Father's Day with my husband and Dad, I couldn't help but think about the Summer Days spent at my grandparents' cottage on Otsego Lake.
My grandparents sold it the summer of 2005 after they decided to move downstate for half the year. Yesterday my gramma and I drove by it on our way to the store (her house and the old cottage is only a few miles a part) and I told her I missed the sounds of the lake. I miss the sound of the water slapping up against the boat while it was docked. I miss the smell of the water and sand. I miss making memories there.
I learned a lot at that cottage. Like my pure distaste for muck. Otsego Lake used to have a logging mill on our end of the lake and it was real mucky. I never swam on our beach. My mom and gramma went to great lengths to rake the muck back far enough for me to go in to swim. My gramma bought me expensive water shoes (before they were popular) but I just couldn't handle the feel of it around my feet. It's giving me anxiety talking about it. Yuck.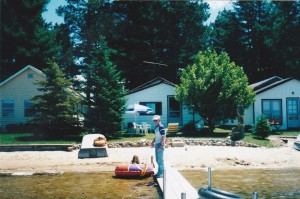 My dad taught me how to water ski on that lake when I was 8. He used to take me on the banana board (wakeboard) when I was 4 (!!!!). I remember him telling me it would be fun. My mother wasn't thrilled about it. I went- he was right, it WAS fun.
My Papa taught me how to drive and dock the boat on the lake. Then later I remember my Papa and I teaching my gramma how to dock the boat so she could take us kids tubing.
My handprint is still in the cement of under the garage my Papa built.
My husband and I stayed their on our way home from getting married.
The next owners put a sliding door in the front and repainted the inside. And now it is up for sale again. What I wouldn't give to own it and give those memories to my kids. One day. I feel like we are just loaning it out for now. 😀
Do you have a favorite childhood place?
Comments
comments