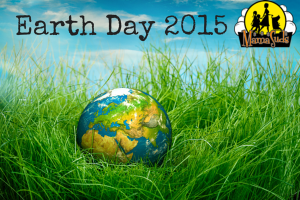 Never doubt that a small group of thoughtfully committed citizens can change the world. Indeed, it's the only thing that ever has.  -Margaret Mead
Happy Earth Day 2015!
Purchasing products that are safe and eco-friendly from companies who care about the environment and sustainability of our planet really does matter. This company started with just one customer: me. I started making products for my family because I didn't like the products I could get at the store. Then it grew. And now almost five years after I made my first batch of castile soap, there are hundreds of you buying my products and telling your friends.
I appreciate you tremendously.
In honor of Earth Day 2015, MamaSuds will be offering free shipping! Woot Woot! Who doesn't love free shipping? It's for one day only so shop early and share with your friends and family!
Happy Shopping,
Michelle
P.S. Carefully read the coupon restrictions!
Conditions and Restrictions Apply.
Minimum order of $40
*Limit 1 gallon MamaSuds Laundry Soap per order.
Cannot be combined with other coupon codes.
Loyal Customer Member Discounts are still applied at checkout (yay!)
*If your order does not comply with these conditions your order could be cancelled.
Comments
comments